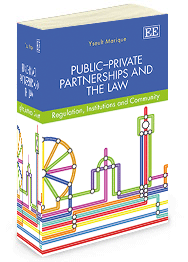 par Yseult Marique.
This timely book examines the legal regulation of Public–Private Partnerships (PPPs) and provides a systematic overview of PPPs and their functions. It covers both the contractual relationships between public and private actors and the relationships between PPPs and third parties, such as end-users.

Public–Private Partnerships and the Law fills gaps in legal literature by focusing on the example of English PPPs and providing a systematic overview of the changes that PPPs have undergone since their inception in 1992. The author develops three models for their regulation: market-analogue, state-analogue and community-analogue. The book discusses these models with appropriate case studies.

Scholars and students of law and regulation will find this book to be of interest. Lawyers engaging with government contracts and public procurement will also find this to be a useful reference tool.